SafeSet and Rebar Installations
HOW SAFESET IMPROVES REBAR INSTALLATIONS
Fully approved, safer and more productive installations at your jobsite
What is SafeSet?
SafeSet is the Hilti system for setting anchors and post-installed rebar connections in a safer and more productive way.
SafeSet helps ensure that anchors can carry their maximum load values safely, minimising the risk of anchor failure. It's designed to speed up the installation of anchors and rebar connections and to make them safer and more reliable. 

All SafeSet components are covered by international approvals and work seamlessly as a system.
Highly reliable
SafeSet components work intuitively as a system to reduce potential mistakes during installation work. SafeSet achieves reliability and security by eliminating steps that negatively impact anchor and rebar performance.
Simply productive
The SafeSet system solution is easy to use and offers a faster installation process. It eliminates the most time-consuming steps, such as hole cleaning, so installations can be made in half the time compared to traditional methods.
Fully approved
Innovatively designed and stringently tested, SafeSet systems carry world-class approvals from renowned third-party institutions.
TE 70-ATC/AVR rotary hammer
The most powerful SDS MAX hammer in our portfolio
Our TE 70-ATC/AVR comes with improved performance in chiselling and drilling by 40% and 25% respectively when compared to their predecessors the TE 70-ATC/AVR and TE 80-ATC/AVR.
The TE 70-ATC/AVR rotary hammer provides you with great performance in rebar installations:
Its brushless motor gives the TE 70-AVR/ATC an improved lifetime by 25% and high performance.
It also comes with a detachable cord for quick and easy replacements for damaged cords onsite.
ATC - Active Torque Control increases users' safety by stopping the tool body from spinning uncontrollably when hitting rebar or other hidden materials. 
AVR - Active Vibration Reduction reduces the vibrations to a minimum so the tool is less tiring to use and therefore increases daily productivity.
When paired with our DRS-Y dust removal system, it collects up to 95% of dust.
The TE 70-ATC/AVR comes with a 2-year lifetime tool service and up to 4 years with our Hilti Fleet Management service.
BRINGING YOU THE REBAR REVOLUTION
Choose the right hammer drill for your rebar installation
No more hole cleaning required
Eliminate extra steps with our hollow drill bits
Clean holes as you drill with our TE-CD (SDS-Plus) or TE-YD (SDS-Max) hollow drill bits connected to the VC 20/40 concrete dust vacuum system and eliminate six manual steps as the dust is then removed automatically.
Just drill the hole, inject the adhesive and set the anchor.
RE 500 V4 – CONTINUING THE REBAR REVOLUTION!
With our full chemical anchor portfolio, we cover all post-installed rebar applications on any jobsite!
Our new RE 500 v4 chemical anchor provides you the best performance in rebar installations:
It is the first epoxy mortar with an ETA under "Beyond Cast-In" design for post-installed rebar, covering all concrete to concrete connections.
Whether deep holes are needed or the installation is under water, the RE 500 v4 is the ideal solution for the most challenging conditions.
Optimise design and reduce drilling depth by at least 10%, using less mortar and eliminating the need to disrupt existing reinforcements, making the job quicker.
Comes with a 100-year service life, approved by an ETA.
Maintains all the approvals of our well-known RE 500 v3, with even better performance.
NEW RE 500 V4 ULTIMATE MORTAR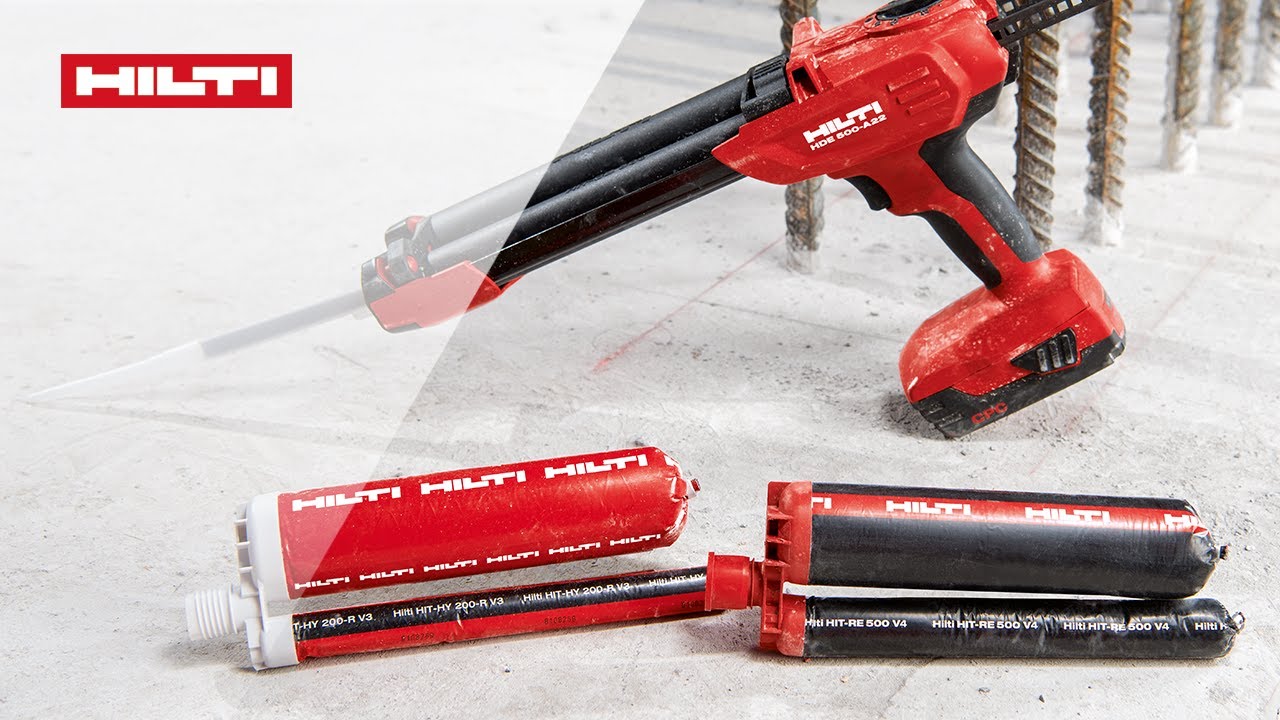 PROFIS REBAR SOFTWARE
Design post-installed rebar quickly and easily
Hilti PROFIS Rebar design software helps you design a wide range of rebar applications and allows you to:
Handle large volumes of calculations
Design with shorter anchorage lengths with Hilti design methods and chemical adhesives
Design according to Eurocode 2 and the new "Beyond Cast-In" design method
Link straight to the Hilti BIM/CAD library – with 2D and 3D models of all Hilti rebar products and their technical data
Integrate seamlessly with AutoCAD® and Revit® design software
Quickly generate detailed technical reports – including approvals, product information and design methods