Firestop For General Contractors
FIRESTOP FOR GENERAL CONTRACTORS AND PROJECT MANAGERS
hilti can help
At Hilti we can help you with specification and design for passive fire protection systems.
We also offer cutting-edge products, easy to use design software and technical backup onsite, online and on the phone. Just get in touch with your local Hilti Technical Advisory Service if you can't find what you need online.
A WIDE RANGE OF EASY TO INSTALL FIRESTOP SOLUTIONS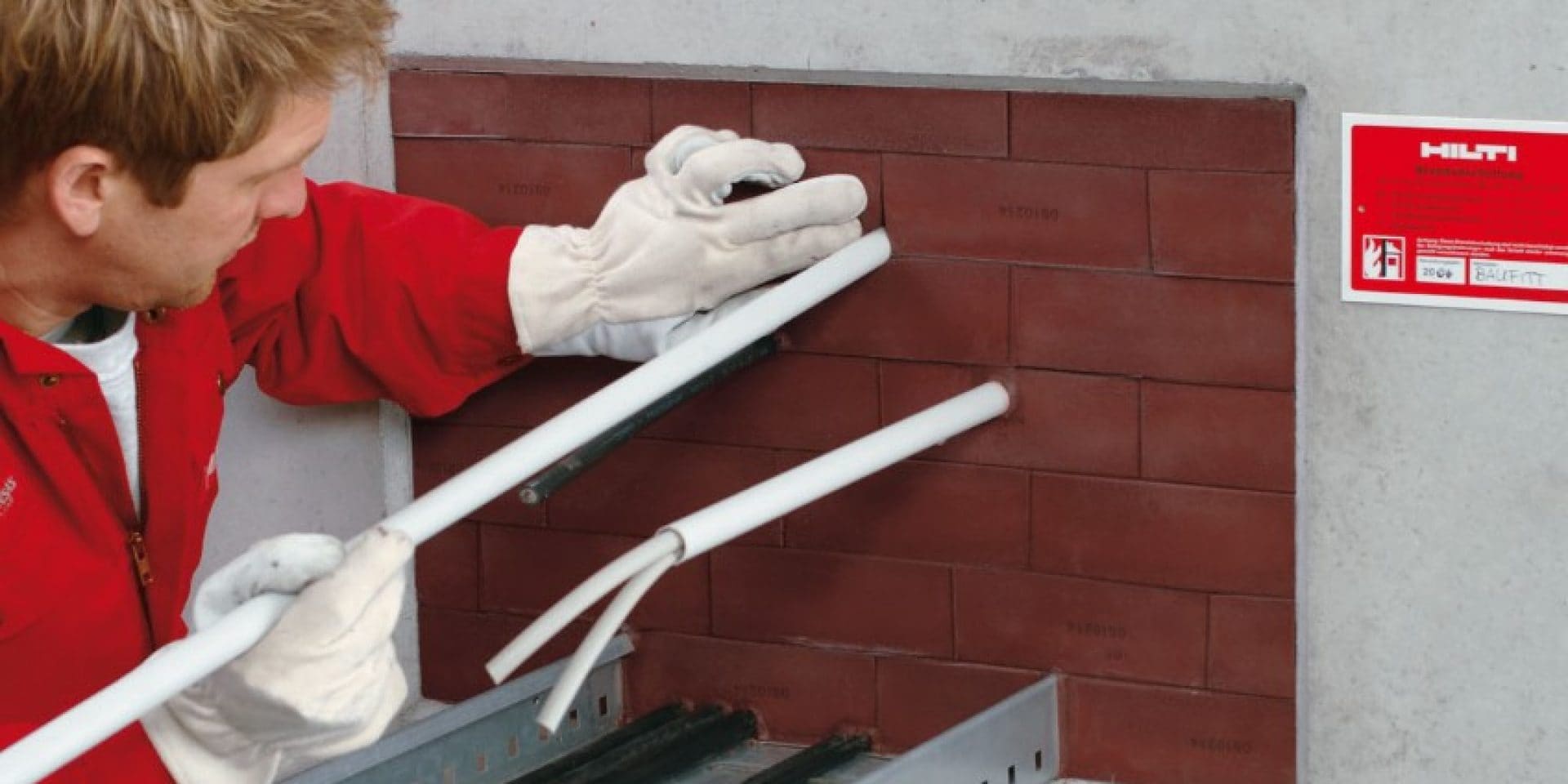 We offer a wide range of firestop products for many different applications and solutions, tested to the most stringent international standards such as ASTM and EN.
Our pre-formed firestop products can increase your productivity. They come with firestop material already inside, making them easy and fast to install, retrofit and inspect.
For instance, our soft firestop blocks can be installed without mortar, easy to remove and reuse. Our firestop cable discs wrap around cables quickly and easily, and our endless firestop collar can be cut to any length you need and used for complicated pipe configurations such as inclined pipes.
CLEAR INFORMATION FOR EASY FIRESTOP SPECIFICATON

Take a look at our online Technical Library for comprehensive descriptions of our Hilti firestop products, technical manuals and approval documents.
It's a quick and easy way to find design information and specification all in one place. You can also cut and paste drawings and text straight into your own design.
If you need more information, just get in touch with your local Hilti team. We're happy to help you onsite, online or on the phone.

KEEP TRACK OF YOUR FIRESTOP DOCUMENTS IN ONE APP
Our Hilti CFS-DM Firestop Documentation Manager app helps you organize all your firestop documents in one place:
Store all your documentation for a project – specifications, approvals, pre-planning documents and more.
Take photos of installations, inspections and store them all together.
Create and print out professional reports in excel or PDF making inspections and updates easier and quicker.
Work on your documents onsite on your phone or on your computer back in the office – just log on with a name and password.
Designed for big or small building projects.
PROFESSIONAL FIRESTOP DOCUMENTATION IN JUST 3 EASY STEPS
Want a simple, easy and compliant method of documenting, tracking and maintaining the firestop integrity of your projects?
CFS-DM Firestop Documentation Manager is the innovative new system that allows you to plan and document every stage of an entire firestop project in just three easy steps. What's more, as it is cloud-based, it can be accessed collaboratively by all stakeholders, including architects, planners, specifiers, installers, building owners and authorities.
After installation, clearly arranged reports can be produced on demand, greatly simplifying building acceptance inspections and making maintenance more efficient.
Step 1: Prepare the project
The project is planned using the user-friendly application. All information to be documented is specified individually according to the project or building needs. Users are defined, plans of the building integrated and all necessary data set out.
Step 2: Record the fire seal
All information and photos relevant to each firestop seal can be recorded on-site using a smartphone or tablet. Data is transferred to the cloud-based database and the installation is clearly marked with an identification label carrying a QR code for quick reference.
Step 3: Create a report
After completing the project, or in an intermediate step, all data can be retrieved and a report produced automatically. Information can be supplemented at any time, the report can be personalized and created in a standard, list or 2D plan format.