Technology makes the construction industry safer
Technology makes the construction industry safer

It's no secret that the construction industry is one of the most dangerous sectors to work in worldwide. Not only is this a safety concern for employees, but it can also negatively impact employers in terms of reputation, productivity and profit should employees need time off work due to illness. Unsafe working conditions make jobsites unappealing to young workers too, which doesn't help alleviate the industry's high turnover rate and worker shortfall.
But by adopting technological innovations in tools and processes, businesses can minimise the risk of injury and help make the construction industry safer.
What makes jobsites unsafe?
Most injuries stem from risky working conditions and can be categorised by a root cause:

People: Human error and risky or reckless behaviour, misuse of tools or PPE, lack of knowledge or experience, not paying attention, working under the influence; misjudgment of the risk.
Tools: Damaged or poorly maintained equipment leading to defects, missing or improper use of PPE, missing safety accessories, using improper, worn or damaged inserts.
Organisation: Missing or improper PPE, inadequate training or certification, not paying attention to hazards, ergonomic risks such as discomfort and fatigue, inadequate planning leading to rushing.
Environment: Poor lighting, excessive noise, distractions, poor weather conditions or extreme temperatures, hazardous substances such as dust or chemicals, working at heights or overhead.
In addition to jobsite risks, contractors can also face compliance challenges. Regulatory bodies constantly update safety standards to meet the demands of bigger and more complicated projects, new working methods, new technologies and materials, fewer skilled workers, and ever-shrinking deadlines that demand higher productivity and faster results.
But it's important to remember that compliance doesn't always mean safety. Regulations are often written to satisfy the baseline, but a genuine commitment to health and safety often means exceeding the minimum criteria.

fatal accidents
every year on construction sites around the world [1]
workplace deaths
each year due to Chronic Obstructive Pulmonary Disease [2]
victims
of work-related illnesses every year [3]
of all jobsite injuries
are avoidable
How Can Technology Help?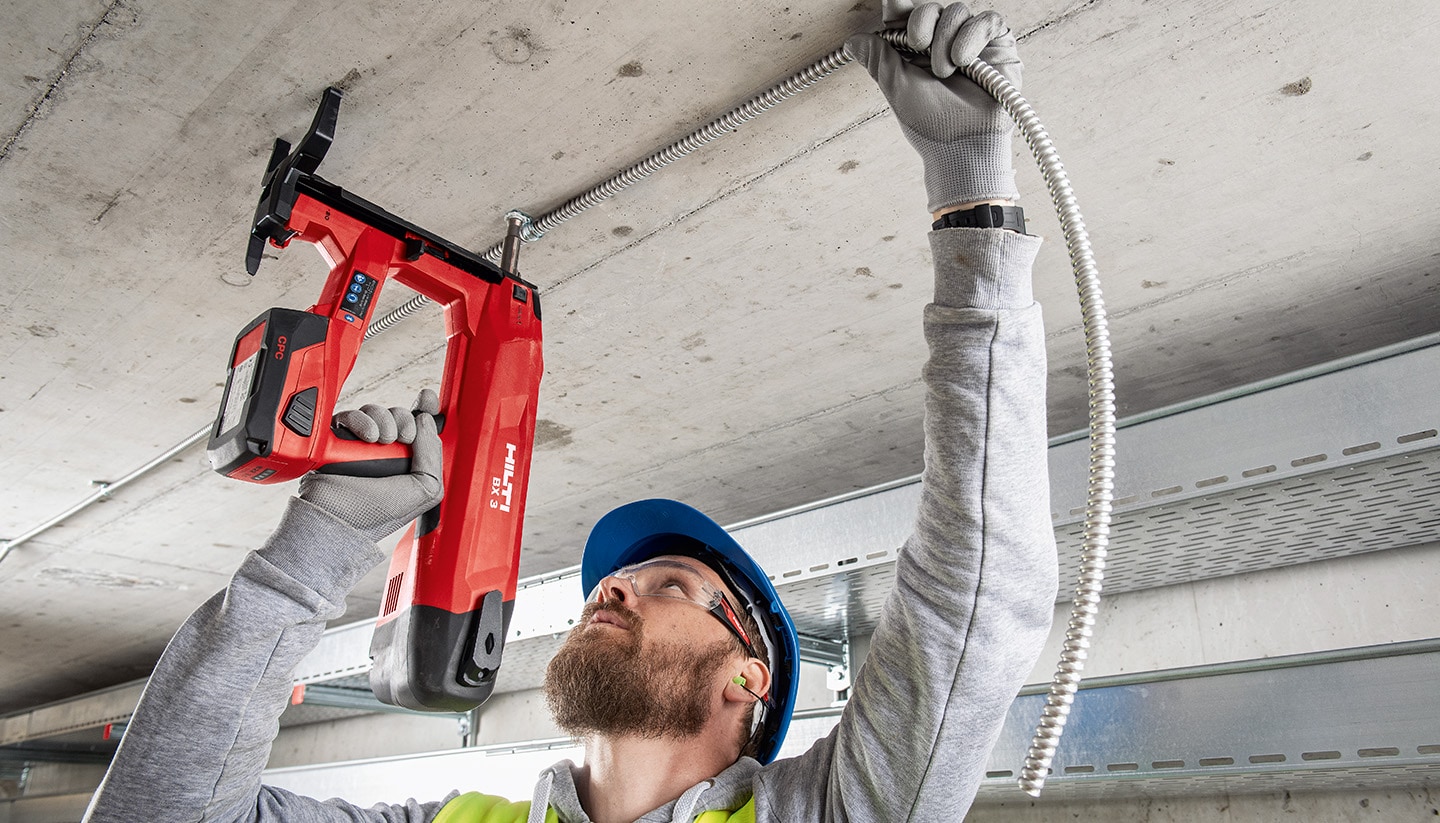 Applications such as drilling and anchoring in concrete can be substituted with innovative fastening systems. And if hammer drilling is unavoidable, an integrated extraction system on an SDS rotary hammer can help remove virtually all of the dust directly from the bit.
Some high-end tools feature technologies to reduce vibration and torque-control systems to help prevent unexpected over-rotation if the bit gets stuck. At Hilti, for example, we've developed a more advanced form of torque-control technology called 3D ATC. It uses multiple gyroscopic sensors to detect when an angle grinder suddenly leaves a work area, triggering a disc brake.
Another solution is using cordless tools with higher performance-to-weight ratios, meaning they're lighter and more comfortable to use (especially when working overhead). However, comfort shouldn't come at the expense of power – the effort required to use them should remain manageable.

Ineffective organisational processes, such as insufficient training or poor PPE management, can also be tightened up with proactive, cloud-based construction management apps. Some software can manage safety and training certifications and provide alerts that help enable compliance. Others track PPE stock, helping supervisors keep dust masks, gloves and glasses onsite at all times.
Innovations for a Safer Jobsite
Reduce worker strains & fatigue
Lighter, more ergonomically friendly & comfortable tools
More productive tools that reduce trigger time
Power tools with vibration reduction technology
Exoskeletons for assisting with lifting & overhead work
Automated machines for dangerous or repetitive tasks
Rig-mounted wet diamond drills with automatic feed
Tool-connected mobile apps that provide trigger-time recommendations as well as dust & noise ratings
Address organisational deficiencies
Tool-connected mobile apps that provide on-demand safety training modules
Asset management software for tracking worker qualifications & certifications, providing tool maintenance alerts, enabling transparency into PPE stock availability & activating smoother repair or replacement of dam

aged/dangerous tools
Prevent hazards
Laser measuring tools to reduce ladder use
Tool tethering to help prevent dropped tools
State-of-health alerts for dangerous batteries
Battery-powered cordless tools that don't require 

combustible fuel
Reduce dust
Tool-integrated dust removal systems that extract virtually all dust from the source
Hollow drill bits that integrate better with dust extraction systems
Powerful cordless vacuum cleaners for more convenient extraction and clean-up
BIM processes that identify ways to avoid drilling (e.g. by 

specifying cast-in anchors)
Address high-risk tasks & behaviour
Torque-control technology that helps prevent stuck tools from uncontrolled spinning
Dead-man & touch-activated switches for stopping 

tools when the user lets go
When CEOs Lead, Safety Follows
Unsafe jobsites are typically due to poor management, therefore it's management's responsibility to convince their employees of the importance of health and safety. The philosophy should then trickle down to employees who will look out for one another and take co-ownership of jobsite safety.
Leaders can encourage a safety culture by implementing regular injury-prevention activities such as near-miss analyses, safety inspections, worker-led committees and worker-established KPIs for measuring safety. This requires group alignment, process execution and personal accountability. For a manager, that's all in a day's work.
Managers can also lead by adopting a Health, Safety and Environment (HSE) strategy that takes advantage of technological innovations. Investing in products and services that help reduce jobsite risk is a proactive approach that can keep companies a few steps ahead of regulators.
Safer Jobsites, Better Business
Employees respond positively to genuine commitments to improve health and safety. Therefore, business leaders who take an active role in executing safety strategies, who engage employees throughout the process and who adopt effective safety innovations, can measurably reduce injuries and downtime.
Running a safer jobsite is not only better for employees, it's better for business. Though increasing productivity might be the primary goal for most construction companies, avoiding hefty fines and sufficiently staffing projects should also be a priority when it comes to increasing profit margins.
To find out more about how Hilti can help your business become safer through technology, please fill out the form below and a member of our team will call you to discuss next steps!
Alternatively, you can register with us online and sign up to receive our newsletter - which contains exclusive updates on our latest technology and innovations that can help make your business safer.
(Already have an online account with us? You can manage your newsletter preferences here)