Constant water supply and a clean jobsite during drilling
The new way of diamond drilling with DD-WMS 100 Water Management System
Diamond Drilling is a safe and efficient way to make clean openings in any base material, however it does require some time to get set-up and then there's the clean-down to think of when you're finished. In fact, the time it takes to actually do the drilling may be one of the shortest steps in the process!
Keeping the jobsite clean, maintaining a constant water supply, and disposing of slurry often occupy much more of your time. With our new DD-WMS 100 Water Management System, these tasks become a thing of the past.
Thanks to the recycling mode, you can drill for a full day with just one load of water and the slurry is taken care of while you drill. Diamond drilling has never been so quick and easy!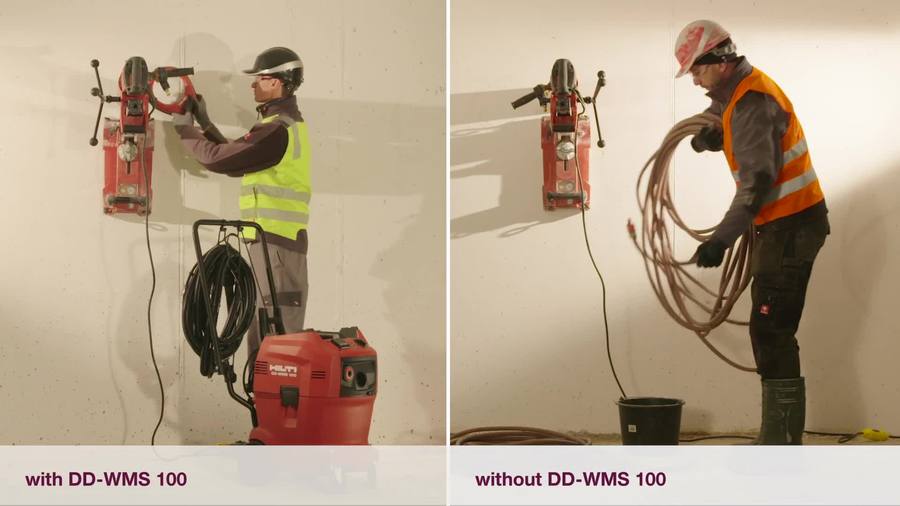 One full day of water autonomy
All you need to do is fill up the water tank and insert a filter bag. As the water is recycled up to 7 times, this is equivalent to about 100 L of continuous water supply. The large wheels and convenient handle bar also make it easy to move the DD-WMS 100 around on the jobsite. 
Clean drilling
Dust and slurry often lead to additional labour time spent on cleaning up, decreasing your jobsite productivity even further. With our range of water collection accessories for diamond drilling tools, we can help you save time and money.

Diamond drilling is no longer a messy job!

Easy slurry disposal
Once the filter is full and suction power begins to drop off, it's extremely easy to remove the slurry with the disposable filter bags. 
FIND OUT WHAT OUR CUSTOMERS THINK
We carried out a contract in a live Accident and Emergency area at a large city centre hospital. Use of the DD WMS-100 system meant no mess was created, this allowed the hospital staff to use the room straight after we had finished. Being able to keep an area very clean and tidy is a really important benefit for us, especially in this type of sensitive working environment.
Ewan Crocker
Operations Director - Corecut
3 working modes to suit your applications
related innovation for you